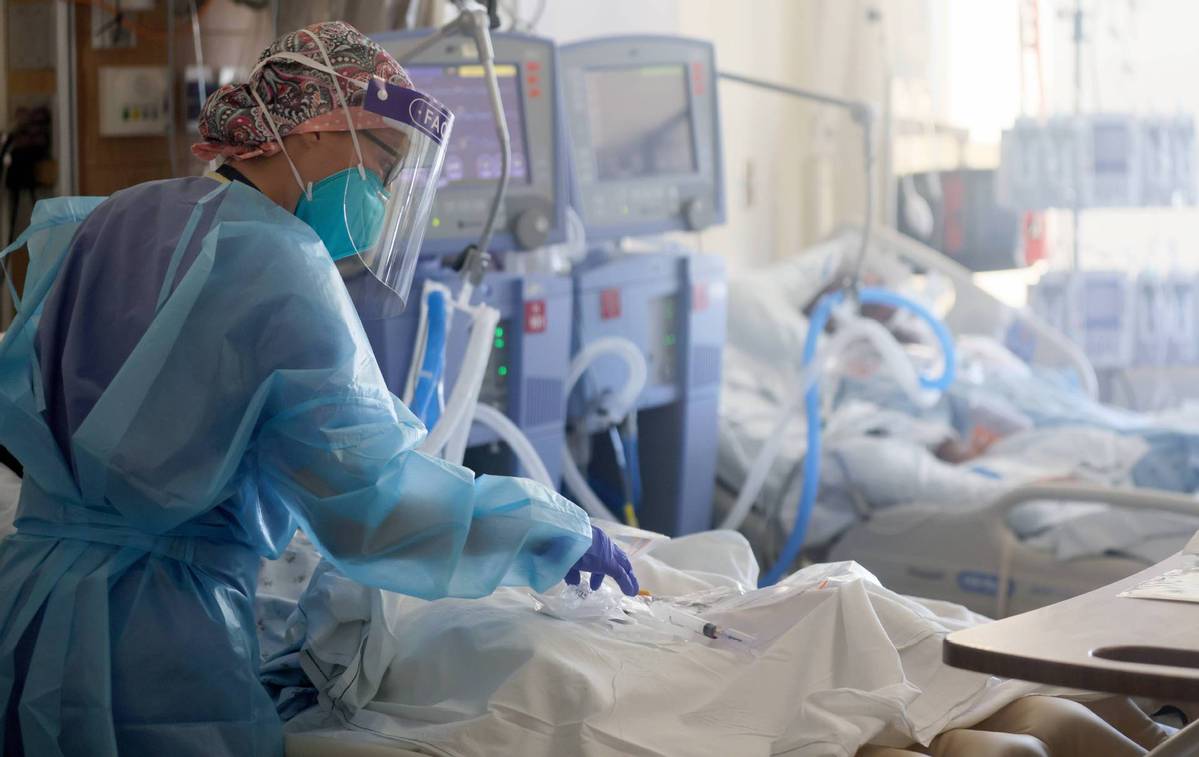 Allyson Black, en registrerad sjuksköterska, tar hand om COVID-19-patienter i en provisorisk ICU (intensivvårdsavdelning) vid Harbor-UCLA Medical Center i Torrance, Kalifornien, USA, den 21 januari 2021. [Foto / byråer]
NEW YORK - Det totala antalet COVID-19-fall i USA toppade 25 miljoner på söndag, enligt Center for Systems Science and Engineering vid Johns Hopkins University.
USA: s COVID-19-antal ökade till 25 003 695, med totalt 417 538 dödsfall, klockan 10:22 lokal tid (1522 GMT), enligt CSSE-talet.
Kalifornien rapporterade det största antalet fall bland staterna och uppgick till 3 147 735. Texas bekräftade 2 243 009 fall, följt av Florida med 1 639 914 fall, New York med 1 323 312 fall och Illinois med mer än 1 miljon fall.
Andra stater med över 600 000 fall inkluderar Georgia, Ohio, Pennsylvania, Arizona, North Carolina, Tennessee, New Jersey och Indiana, visar CSSE-uppgifterna.
USA är fortfarande den nation som drabbats hårdast av pandemin, med världens flesta fall och dödsfall, som utgör mer än 25 procent av den globala fallbelastningen och nästan 20 procent av de globala dödsfallen.
USA: s COVID-19-fall nådde 10 miljoner den 9 november 2020, och antalet fördubblades den 1 januari 2021. Sedan början av 2021 har den amerikanska fallbelastningen ökat med 5 miljoner på bara 23 dagar.
US Centers for Disease Control and Prevention rapporterade 195 fall orsakade av varianter från mer än 20 stater från och med fredagen. Byrån varnade för att de identifierade fallen inte representerar det totala antalet fall som är associerade med de varianter som kan cirkulera i USA.
En nationell ensembleprognos som uppdaterades av CDC på onsdagen förutspådde totalt 465 000 till 508 000 dödsfall i coronavirus i USA den 13 februari.
---
Inläggstid: Jan-25-2021